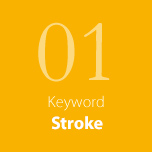 A stroke occurs when poor blood flow to the brain results in the death of brain cells. Strokes can be fatal, and if not fatal, sufferers are often left with serious damage, leading to impairments in speech or movement. According to the World Stroke Organization, there are currently 80 million stroke survivors worldwide, and 50 million of those survivors have been permanently disabled, making stroke the leading cause of disability.* What's more, patients who have suffered one stroke are likely to suffer another, with one in four stroke survivors having another stroke.* With figures like these, it is reasonable to say that stroke is a huge, and growing, issue that touches many lives.
*World Stroke Organization, World Stroke Campaign [URL: https://www.worldstrokecampaign.org/learn.html]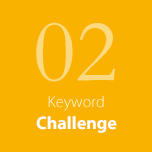 As well as stroke, other injuries and diseases, including multiple sclerosis, cerebral palsy, brain trauma and incomplete spinal cord injury, can also cause damage to the central nervous system. Any of these could result in impaired motor skills. Motor skills, including fundamental abilities such as walking or eating, are essential to good quality of life – something Teijin Pharma are constantly striving to improve.
Teijin Pharma has been actively researching treatments for bone and joint diseases since pioneering treatments for osteoporosis in the 1980s. Now, as part of an ongoing mission to improve quality of life, Teijin Pharma is making moves to expand their expertise into the central nervous system. With a growing global network of partners and experience in the field of home healthcare, Teijin Pharma is well placed to tackle issues in the rehabilitation field.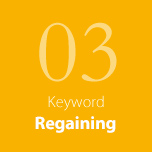 Following damage to the central nervous system, from stroke or other cause, the resulting paralysis or impairment may heal over time, though full recovery is rare. However, when this natural process of regaining movement is combined with rehabilitation, recovery is greatly improved.¹ With this knowledge in hand, Teijin Pharma began working with their network of medical researchers and doctors to find effective rehabilitation methods. The result was a strategic alliance with Innovative Neurotronics Inc., a US medical equipment maker, and the launch of WalkAide in Japan in 2013. WalkAide is an electrical stimulation therapy device that supports walking for those suffering from foot drop due to stroke. Used by thousands of patients in the US and Europe, Teijin Pharma began distribution of WalkAide across Japan, where an average of 270,000 people suffer a stroke each year.²
1. Nudo et al: Science Vol. 272, 21 June 1996; 1791-1794
2. 2014 Patient Survey by the Japanese Ministry of Health, Labor and Welfare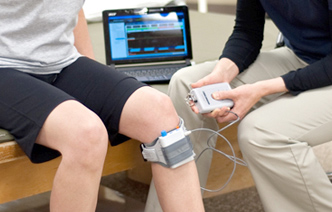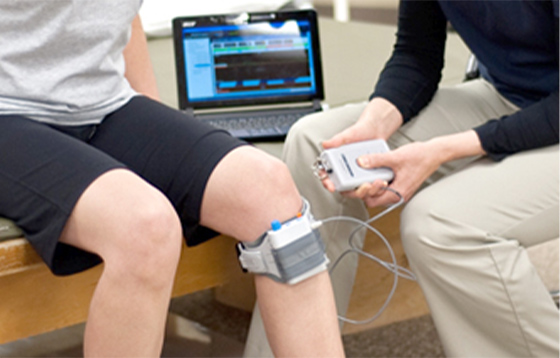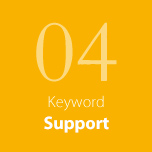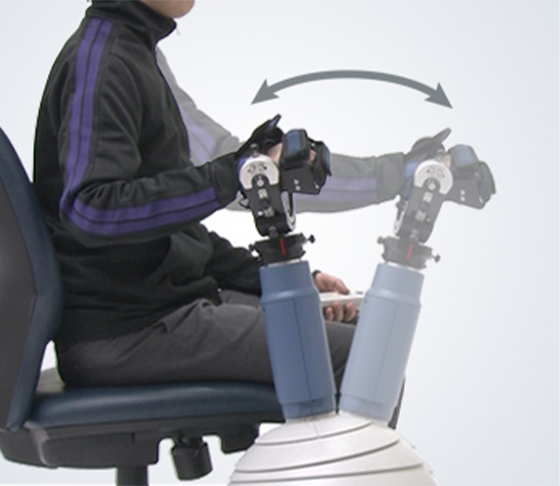 After the successful introduction of WalkAide, Teijin Pharma immediately began to look for other effective rehabilitation devices that could help stroke survivors, and others suffering paralysis due to central nervous system damage, to regain their dexterity. In 2016 they launched ReoGo-J, a robotic device for rehabilitating the upper limbs. ReoGo-J requires patients to make various voluntary movements which initiate a robotic arm motion. Research shows that voluntary movement of impaired limbs by the patient can stimulate recovery in the brain and upper limb motor functions, helping patients regain movement.*
Teijin Pharma works through academic and government channels to ensure that their rehabilitation devices are covered under Japan's public health insurance system and are classified as assistive devices under the Services and Supports for Persons with Disabilities Act. Although these devices are currently only available inside hospitals, Teijin Pharma are planning to devise rehabilitation devices for home use, using their expansive knowledge and existing networks in the area of home healthcare.
*Takahashi et al: Stroke, 2016; 47 [5]: 1385-1388