Research & Development

Our R&D Strategy Maximizes Patients' Benefits
Teijin Pharma's approach to research and development is multiple, not only for pharmaceuticals, medical devices or biomaterials, but also their integration to create complementary and synergistic benefits for patients, where no other manufacturers can find healthcare solutions.
We Create Novel Treatments by Leveraging Integrated Technologies
Teijin Pharma continuously develops technology-based revolutionary products to create novel treatments for, mainly, musculoskeletal, respiratory and cardiovascular and metabolic disorders. In addition, our technologies have built a unique, global Home Healthcare Business.
Pharmaceuticals in Our R&D Pipeline
As of the end of June, 2020
| Development code (Generic name) | Target disease | Form | Development stage |
| --- | --- | --- | --- |
| GGS-CIDP (Immune globulin (human)) | Chronic inflammatory demyelinating polyradiculoneuropathy | Injection | Approved, August 2019 |
| GGS-ON (Immune globulin (human)) | Optic neuritis | Injection | Approved, December 2019 |
| NT 201 (Incobotulinumtoxin A) | Upper limbs spasticity | Injection | Approved, June 2020 |
| ITM-058 (Abaloparatide acetate) | Osteoporosis | Injection | NDA |
| ITM-014T (Lanreotide acetate) | Thyroid stimulating hormone-secreting pituitary adenoma | Injection | NDA |
| NT 201L (Incobotulinumtoxin A) | Lower limbs spasticity | Injection | PH Ⅲ |
| GGS-MPA (Immune globulin (human)) | Microscopic polyangiitis | Injection | PH Ⅲ |
| TMX-049DN | Diabetic Kidney disease in type 2 diabetes | Tablet | PH Ⅱ(US) |
| PTR-36 | Asthma | Tablet | PH Ⅱ |
| TMX-049 | Gout, hyperuricemia | Tablet | PH Ⅱ |
| TMX-67HK (Febuxostat) | Gout, hyperuricemia (pediatric patient) | Tablet | PH Ⅱ |
| JTR-161 | Acute Stroke | Injection | PH I/Ⅱ |
| TCK-276 | Rheumatoid arthritis | Tablet | PH I |
Our Network of Integrated Technologies
We Provide Hospital-quality Care with Ensured Safety at Home
Teijin Pharma's Home Healthcare business has developed highly reliable, energy-saving process control technology, acoustic noise depression technology and user-friendly design technology to ensure safety and easy use of advanced medical equipment in the home for any patient. Additionally, we continue to expand our communications infrastructure, including the development of a novel IT system that offers enhanced remote monitoring of a patient's medical condition while at home. We also have established a 24 hours-a-day 7 days-a-week patient support system that includes emergency support even during a natural disaster.
We Are Always Open and Working Together for Innovation
Teijin Pharma is open to joint research and development, even from early discovery research stages. We recognize that the greatest innovations that meet the needs of patients are not reached alone but with effective partnering. Our strategy is to look for partners that allow us to combine our innovative science, technologies and infrastructures with their research, development, manufacturing and commercial capabilities in order to provide breakthrough solutions rapidly and efficiently. We believe we can create new value by maximizing our mutual strengths through collaboration or alliance. Teijin Pharma has a history of successful long-term relationships around the world with strategic partners ranging from local academic researchers to start-up ventures and global companies.
Networks that Work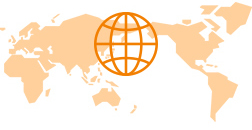 At Teijin Pharma, we have a policy of sending our researchers to work at leading labs and universities around the world. Upon their return, beyond possessing invaluable R&D experience, these researchers benefit from having created relationships with other leaders in the field, facilitating joint research and information exchange in the future.
Production that ensures high quality and stable supply: Industrial Technology
Business Fields