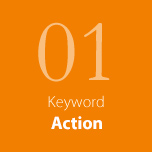 The progressive bone disease osteoporosis is characterized by significant decrease in bone mass density (BMD) over a period of 20-30 years, which can lead to an increased risk of fracture. Women are particularly prone to osteoporosis, especially those who are passed menopause. It is estimated that more than 200 million people worldwide suffer from osteoporosis,¹ including approximately 13 million people in Japan.²
In the 1980s, osteoporosis was not yet widely recognized as a disease. Nevertheless, Teijin Pharma were aware of predictions for ageing societies around the world and responded by actively developing treatments. At that time, in-house development had recently been completed on an active vitamin D3 drug as a treatment for chronic kidney disease. One of the causes of osteoporosis is the decline of intestinal absorption of calcium by ageing. Vitamin D helps to increase the absorption of calcium, so researchers decided to continue its development as a treatment for osteoporosis.
1. Kanis JA (2007) WHO Technical Report, University of Sheffield, UK: 66.
2. Japan Osteoporosis Society, Japanese 2011 guidelines for prevention and treatment of osteoporosis: 3.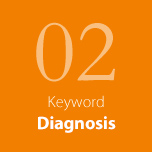 To diagnose osteoporosis, it is necessary to measure bone mass. When Teijin Pharma began work on the new treatment, the instruments used to measure bone mass were prohibitively expensive and were not yet widely available. Therefore only a small percentage of doctors, such as orthopedic specialists, were able to diagnose the disease and there was little recognition of osteoporosis by the general public.
This situation is what inspired Teijin Pharma to launch development in the area of bone and joint diseases, starting with diagnostic procedures for osteoporosis, hoping to give it more recognition as a disease. The solution was discovered within the Teijin Group, in the Group's materials business. Teijin Pharma derived the microdensitometry (MD) method for diagnosing osteoporosis from a technology which quantifies the contrasting density of film. This simple method of diagnosis involves measuring the mass of hand bones, such as those of the wrist or fingers, based on the density of shadows that appear in an x-ray picture of the hand along with an aluminum step-wedge. Developing the MD method required the collection and analysis of numerous x-ray images taken of hand bones, but luckily Teijin Pharma had help from the members of the Group's materials business, who not only helped to develop the new technology for diagnosis, but allowed the use of their own hand x-rays as part of the process. Ultimately, thanks to the synergy of the Group's materials and healthcare technologies to create the MD method, Teijin Pharma succeeded in discovering that activated vitamin D3 increases bone mass. It was the first step towards building Teijin Pharma's bone and joint platform.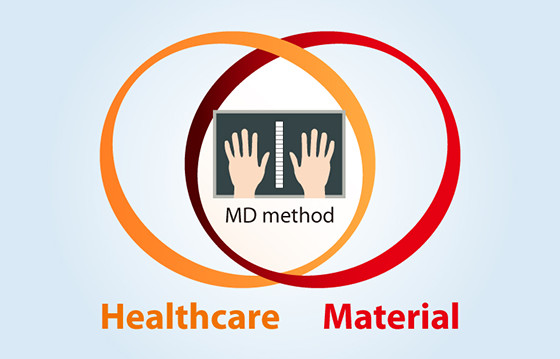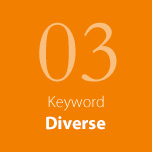 In 2001, Teijin Pharma launched a new drug option for the treatment for osteoporosis under a beneficial cross-license agreement with an overseas pharmaceutical company. However, this did not represent a final success for Teijin Pharma, but rather the beginning of the next challenge. Osteoporosis is a long-term disease, and minimizing the burden of treatments is important to ensure patients can continue their treatment without having to sacrifice their quality of life. Teijin Pharma have worked to build a range of drugs by developing options that are easier to swallow or can be taken less frequently.
Furthermore, being able to walk and stay mobile is an important aspect of retaining good quality of life. Recognizing this, Teijin Pharma has made efforts to target other bone and joint diseases, developing medical devices to help heal bone fractures and drugs to relieve osteoarthritic knee pain. By continuing to expand this range of products, they plan to go on prioritizing the mobility of patients.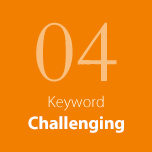 Teijin Pharma has built a strong platform in this field since its beginnings developing a simpler, more accessible way to diagnose osteoporosis. Over 30 years, the company has leveraged synergies within the Teijin Group to create medical solutions that combine their expertise in healthcare and materials.
In 2015, Teijin Limited entered the joint prostheses and trauma implants field, forming a joint venture with a partner with strengths in high-level metalworking and joint prostheses, to begin development of Japanese-made artificial joints which not only suit patients' bone structures but also fit their lifestyles. In 2017, Teijin also entered the bioreabsorbable implant field, continuing to integrate the Group's materials capabilities, such as polymeric chemistry, to accelerate development of implantable medical products, such as bone-bonding materials. In 2018, the challenges will continue, as they target spinal related disorders and spine-related medical devices such as spine-fixation devices and spine cages. By utilizing the synergy of the Teijin Group, Teijin Pharma will continue to support people's health in an aging society with their knowledge and expertise in the field of bone and joint diseases.