Corporate Social Responsibility
It's in Our Nature as a Group Company
Since its foundation, Teijin has consistently fostered and promoted activities and business that benefit society. This approach to social responsibility is embedded in the thinking of all Group companies as well. So when the Teijin Group established a new corporate philosophy in 1993 which advocated concepts such as 'enhancing the quality of life' and 'growing and evolving in harmony with society,' there was already a deep understanding of the importance of CSR within Teijin Pharma.
Recognized for Our CSR Activities
In 2005, a Group CSR Officer position was created to manage CSR activities by dividing them into three categories: Basic CSR, Expansive CSR and Selective CSR. In line with the Group's CSR policy, Teijin Pharma is implementing CSR activities in all of our processes, from R&D and manufacturing to sales and disposal. Additionally, in March 2011 Teijin joined the United Nations Global Compact, which aims to promote high-quality CSR activities from a global standpoint. The CSR activities of the Teijin Group have received high marks internationally, as indicated by inclusion in the Dow Jones Sustainability Index, the FTSE4Good Index Series and the Ethibel's Investment Register.
Teijin Pharma and Teijin Healthcare's Initiatives for COVID-19
Teijin Pharma Limited and Teijin Healthcare Limited, the core companies of the Teijin Group's healthcare business, are taking special measures in Japan during the COVID-19 pandemic to maintain stable deliveries of pharmaceuticals, home healthcare equipment and services, as well as to help prevent the spread of COVID-19 infection and to ensure the safety of employees in accordance with Teijin's mission as a company that supports the society of the future by striving to enhance the quality of life of people.
Contribution to examination of treatment methods for COVID-19
Teijin Pharma Limited and Teijin Healthcare Limited have designated the respiratory field as a priority business sector and have been supporting patients' quality of life for many years with pharmaceuticals and home healthcare devices, responding to diverse needs in Japan.
(1) Pharmaceuticals
In response to a request from Japan's Ministry of Health, Labor and Welfare on March 9, Teijin Pharma is preparing to supply ciclesonide, a corticosteroid for asthma treatment, which the company manufactures and sells in Japan under license from a foreign-based entity, for study as a possible therapeutic agent for COVID-19 (see here for details). The company is now in contact with the licensor to discuss the way for the increased demand for the supply.
Teijin Pharma has confirmed that its delivery of ciclesonide to bronchial asthma patients now using the drug will continue uninterrupted. Inhaled corticosteroid, known generically as ciclesonide, is a metered-dose aerosol approved for adults and children as a therapeutic drug for bronchial asthma.
(2) Medical equipment
Separately, Teijin Pharma and Teijin Healthcare are preparing to increase production of a proprietary oxygen concentrator. Also, they are in talks with the manufacturer of a non-invasive positive-pressure ventilation (NPPV) device that the two firms currently handle and wish to supply on an expanded basis. The oxygen concentrator and NPPV device both can be used to provide artificial-respiration support to COVID-19 patients in Japan.
The oxygen concentrator is used for home oxygen therapy (HOT), which enables oxygen-deficient patients to inhale oxygen safely at home. The NPPV device provides ventilation assistance via a mask and discharges carbon dioxide as it accumulates in the lungs, eliminating the need for tracheal intubation or a tracheotomy.
Stable supplies of pharmaceuticals and medical equipment
Teijin Pharma and Teijin Healthcare, working to ensure that customers can continue to use the companies' pharmaceuticals and medical equipment without disruption, are securing necessary inventories and production systems, including in their supply chains in Japan. Both companies are carefully monitoring the evolving situation and are prepared to implement additional measures as required. Please click here for more about the products of Teijin Pharma and Teijin Healthcare available in Japan.
Continuous provision of medical support
Teijin Pharma and Teijin Healthcare, as before, are providing medical devices including oxygen concentrators for home oxygen therapy (HOT), and continuous positive airway pressure (CPAP) devices for sleep apnea syndrome (SAS) treatment in Japan. Both companies are retaining their respective personnel for sales, patient support (nurses and other caregivers), clinical work, office administration and call centers to enable medical institutions and patients to continue receiving support for their medical devices even during Japan's current state of emergency.
Preventing the spread of infection and ensuring employee safety
As Teijin Pharma and Teijin Healthcare continue to deliver products and support, they also are taking necessary precautions to prevent the spread of COVID-19 infection and ensure the safety of their employees.
(1) Preventing the spread of infection
All employees who visit medical institutions, facilities or patients' homes are required to monitor their health, including body temperature, every morning. If a fever or any other abnormality is identified, the employee is obliged to stay home. Also, if any employee has direct contact with an infected person, or even contact with others who themselves have been in direct contact with a COVID-19 patient, the companies will implement standard isolation procedures, including instructing the person to remain self-quarantined at home.
(2) Ensuring employee safety
Whenever an employee visits a medical institution or related facility, or a patient's home, they are required to protect themselves by wearing a mask, using disinfectant and washing their hands. In addition, before physically visiting any patient, the employee is required to confirm the patient's condition and respond accordingly.
Until further notice, Teijin Pharma and Teijin Healthcare will continue to implement these measures as responsible members of Japan's medical care community.
Teijin Pharma's Efforts
Reducing Environmental Burden
In order to reduce CO2 emissions in the manufacturing process, we have introduced separate air conditioning units and high-efficiency production systems in the clean rooms where pharmaceuticals and medical devices are produced. We have also taken steps to redesign our packaging to reduce waste. By replacing standard corporate cars with hybrid cars and compact cars, we are further reducing CO2 emissions and fuel consumption.
Commitment to Environment-friendly Design Leads to Outstanding Eco Products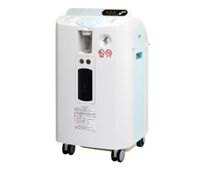 Teijin Pharma is redesigning all products to be more compact and energy efficient, while reducing environmental burden over the product life cycle. The Hi-Sanso 7R oxygen concentrator, for example, features a compact design with improved operability and increased energy efficiency.