Corporate Social Responsibility
It's in Our Nature as a Group Company
Since its foundation, Teijin has consistently fostered and promoted activities and business that benefit society. This approach to social responsibility is embedded in the thinking of all Group companies as well. So when the Teijin Group established a new corporate philosophy in 1993 which advocated concepts such as 'enhancing the quality of life' and 'growing and evolving in harmony with society,' there was already a deep understanding of the importance of CSR within Teijin Pharma.
Recognized for Our CSR Activities
In 2005, a Group CSR Officer position was created to manage CSR activities by dividing them into three categories: Basic CSR, Expansive CSR and Selective CSR. In line with the Group's CSR policy, Teijin Pharma is implementing CSR activities in all of our processes, from R&D and manufacturing to sales and disposal. Additionally, in March 2011 Teijin joined the United Nations Global Compact, which aims to promote high-quality CSR activities from a global standpoint. The CSR activities of the Teijin Group have received high marks internationally, as indicated by inclusion in the Dow Jones Sustainability Index, the FTSE4Good Index Series and the Ethibel's Investment Register.
Teijin Pharma's Efforts
Reducing Environmental Burden
In order to reduce CO2 emissions in the manufacturing process, we have introduced separate air conditioning units and high-efficiency production systems in the clean rooms where pharmaceuticals and medical devices are produced. We have also taken steps to redesign our packaging to reduce waste. By replacing standard corporate cars with hybrid cars and compact cars, we are further reducing CO2 emissions and fuel consumption.
Commitment to Environment-friendly Design Leads to Outstanding Eco Products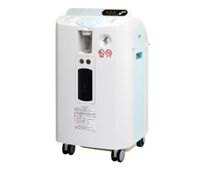 Teijin Pharma is redesigning all products to be more compact and energy efficient, while reducing environmental burden over the product life cycle. The Hi-Sanso 7R oxygen concentrator, for example, features a compact design with improved operability and increased energy efficiency.