Nov. 16, 2017
Teijin Pharma and SRETT Sign Exclusive Distribution Agreement for Respiratory Remote-monitoring Device
Teijin Pharma Limited
Teijin Pharma Limited, the core company of the Teijin Group's healthcare business, and SRETT, a French IoT provider, announced today they have agreed to an exclusive distribution arrangement in Japan for TeleOx™, a device developed by SRETT which remotely monitors patient's respiratory functions in oxygen therapy.
TeleOx™ is a compact device with a diameter of 46mm and low weight of 34 grams, integrated with the oxygen cannula to measure patient's respiratory rate and oxygen flow rate even during oxygen inhalation. TeleOx™ is Bluetooth Smart-enabled device and compatible with various systems, furthermore it can store the conditions of use for two years in built-in memories. This small device is compatible with Hi-Sanso™3S, Hi-Sanso™5S by Teijin Pharma, and will be launched in April 2018 in Japan. Teijin Pharma plans to provide rental service for medical institutions, aiming for leveraging TeleOx™ for patient instruction and management.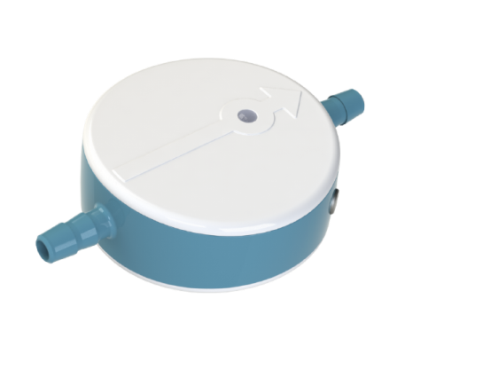 TeleOx™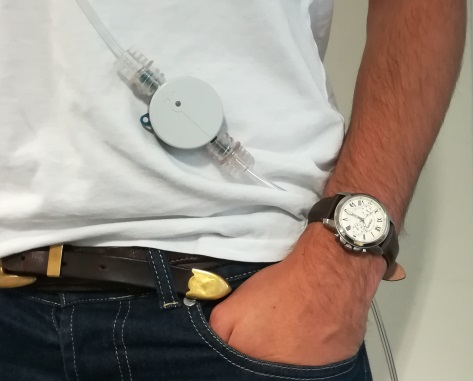 Image
Since 1991, Teijin Pharma has been selling systems which monitor the operating status and oxygen flow settings of home oxygen concentrators and then providing this information to healthcare providers via telephone networks. However, since these systems do not monitor how much time patients have actually absorbed oxygen. Teijin Pharma acquired the exclusive distribution rights of TeleOx™ in Japan from SRETT with the aim of solving existing problems and promoting more appropriate use of home oxygen therapy by introducing TeleOx™ which can detect the situation of oxygen inhalation at home.
Teijin Pharma will launch newly advanced oxygen-monitoring services incorporating TeleOx™. The services are planned to be offered to medical institutions in April 2018. By developing next-generation services for home oxygen therapy, SRETT and Teijin Pharma look forward to contributing to improved home care in Japan.
About SRETT
Founded in 2004 in France, SRETT is an innovative IoT technology company which has become a leading provider of solutions for both industry and healthcare fields.
In the past decade, SRETT has been committed to leveraging connected equipment so that professionals can preserve their resources and optimize their operations. The company has supplied over 200 000 connected objects in 17 countries, notably for oil & gas, tracking, and healthcare, and processes daily more than 5 million new individual pieces of data.
SRETT is active in the field of homecare patient remote monitoring, for which it has developed a comprehensive range of solutions for chronic respiratory disease management. Already successful in Europe since 2012 in telemonitoring of CPAP therapy in sleep apnea patients, the company has engaged to offer new perspectives in treatment of COPD and comorbidities with easy to deploy IoT solutions.
For more information, please visit www.srett.com
About the Teijin Group
Teijin (TSE: 3401) is a technology-driven global group offering advanced solutions in the areas of environmental value; safety, security and disaster mitigation; and demographic change and increased health consciousness. Its main fields of operation are high-performance fibers such as aramid, carbon fibers & composites, healthcare, films, resin & plastic processing, polyester fibers, products converting and IT. The group has some 170 companies and around 19,000 employees spread out over 20 countries worldwide. It posted consolidated sales of JPY741.3 billion (USD 6.5 billion) and total assets of JPY 964.1 billion (USD 8.5 billion) in the fiscal year ending March 31, 2017.
Please visit www.teijin.com
Press Contact
Corporate Communications
Teijin Limited
+81 3 3506 4055
pr@teijin.co.jp